Welcome To Zapata Telephony!
(previously BSD Telephony Of Mexico)
Circa Nov. 2002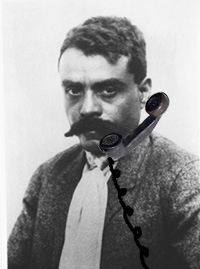 Gen. Emiliano Zapata, our inspiration
Zapata Telephony, dedicated to bringing the world a much-needed reasonable and affordable Computer Telephony platform, and hence a revolution in the arena of Computer Telephony.
Zapata -- PC-Based High Density Computer Telephony Project Information
Zapata Technology Design Philosophy
Tormenta ISA Card, Rev. A -- Schematics and Board Artworks
Tormenta 2 PCI Card, Rev. B -- Schematics and Board Artworks
Click Here for Radio Repeater/Remote Base Interface and Application
HARDWARE AVAILABILITY
Now Available!!
The Tormenta ISA PC card, supporting 2 full channelized-T1circuits (48 voice ports) is available in small quantity now. We are no longer building cards ourselves. There are, however, several entities that are making them currently. You can send us email (see below), and we will pass along your requests/orders to the entities currently manufacturing the boards. For those wishing to fabricate their own cards, the gerber photoplot files may be downloaded here.


Please note Mandatory Engineering Change.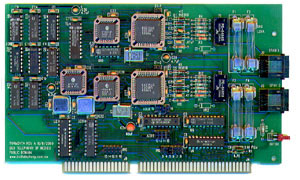 Tormenta ISA Card, Rev. A
(shown without mounting bracket)
PCI Version Development Completed
10/22/01 -- After much pain and torment (this process has dragged out over months and months now), a PCI version of the card (supporting 4 T-1/E-1 interfaces) has been developed and tested along with a new version of the driver, supporting this hardware and more.
These cards are currently available from Linux Support Services in Alabama. They are now in full production, and the cards are readily available. For information on pricing and availability, please contact Mark Spencer (markster@linux-support.net). For those wishing to fabricate their own cards, the gerber photoplot files may be downloaded here.

.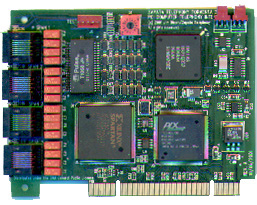 Tormenta 2 PCI Card, Rev. A
(shown without mounting bracket)
SOFTWARE/DRIVER AVAILABILITY
The 'tor' driver source and header, and Zapata library source and header, and installation instructions are available now. The whole entire distribution (driver, library and browser application), including the Emiliano MIPL browser (which also serves as an excellent sample application) is available for download here.
In addition, the NEW LINUX version of the driver/library is now available for download, with MANY enhancements, including data modes, networking, and ability to use IDE hard drives.
We now have full E1/A-law support available in the LINUX drivers/library, plus ETSI (Euro, Net5) ISDN protocol is now supported in the PRI/PRA library.
OPEN-SOURCE SWITCHING SYSTEM (PBX) NOW AVAILABLE
(The "Asterisk" PBX is provided by Linux Support Services, Inc.)
The "Asterisk" PBX, an open-source PBX, based around the Linux operating system and the Tormenta card is now available. It has many features, including voice-over-IP/Frame-Relay capability, and Primary-Rate ISDN support (Both North American and Euro-ISDN). Check it out.
SYSTEM REQUIREMENTS
PC compatible system running FreeBSD version 3.X or 4.X (it should work on 2.X systems with little modification) or LINUX (with at least a 2.2 kernel), with at least a Pentium III, 700 Mhz processor (or equiv.), 64 MB 100Mhz Ram, Wide Ultra-II SCSI controller and drive (should also work with slower drives, but has not been tested) for FreeBSD or UDMA 66 IDE (ATA) for LINUX, and reasonable PCI network card (not a 3com for LINUX). The Tormenta ISA card must be the ONLY ISA card in the system, since it uses ALL the ISA bus bandwidth available.
Note: The NEW LINUX driver does not require SCSI disk hardware.
¡Viva la revolución de las computadoras telefónicas! ¡Viva Zapata!
For more information, send email to: zapata @ zapatatelephony.org
ACKNOWLEDGEMENTS
We wish to thank the following people for their gracious contributions to this project, or whose work has greatly contributed to this technology:
David Kramer, Todd Lesser, Jim Gottlieb, Joe Talbot, John Higdon, Clint Kennedy, Steve Thomas, Tony Fisher (may he rest in peace), Jesus Arias, Mark Balliet, Christian Mock, Christopher Lee Fraley, Julius Smith, Joe Campbell, and the unknown person who wrote the ADPCM converter routines.
With the exception of items protected by the GNU General Public License (which are clearly indicated as such), the technologies, software, hardware, designs, drawings, schematics, board layouts and/or artwork, concepts, methodologies (including the use of all of these, and that which is derived from the use of all of these), all other intellectual properties contained herein, and all intellectual property rights have been and shall continue to be expressly for the benefit of all mankind, and are perpetually placed in the public domain, and may be used, copied, and/or modified by anyone, in any manner, for any legal purpose, without restriction.
The text and non-informational images of this website (not the information contained herein) is Copyright © 2000 Zapata Telephony. May be reproduced in full, or in part, in any manner without modification.
Zapata Telephony Organization


49197 Road 426, Suite A




Oakhurst, CA 93644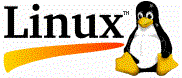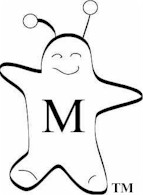 The "Mipl Man" character is a trademark of Miplmedia Development Group, LLC, and is used in this context by permission.